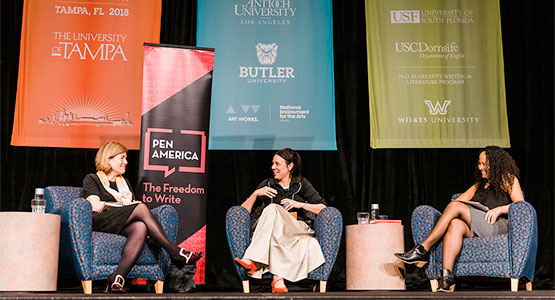 2023 Event Schedule
The 2023 AWP Conference & Bookfair in Seattle, Washington schedule is searchable by day, time, title, description, participants, type of event, and event format. This schedule is subject to change. A version accessible to screen readers is also available.
The schedule includes events taking place in-person at the Seattle Convention Center in Seattle, Washington and prerecorded virtual events that will be available to watch on-demand online. A select number of in-person events will also be livestreamed for online viewing. Under the Advanced Search, use the "Event Format" search option to filter the schedule and view all in-person events, all virtual events, livestreamed events only, or prerecorded virtual events only. Please note that due to staff and resource limitations, not all in-person events can be livestreamed.
The #AWP23 Conference & Bookfair mobile app is now available! If you would like to build your personal schedule on the mobile app, search "AWP23" in the App Store or Google Play to download the #AWP23 app now. More information, including conference maps and exhibitors, will be added to the mobile app in the coming months.
Please note: The schedule you build on awpwriter.org will not transfer to the mobile app as these systems are independent.
Scroll over participants' names in blue to read their biographies.
---