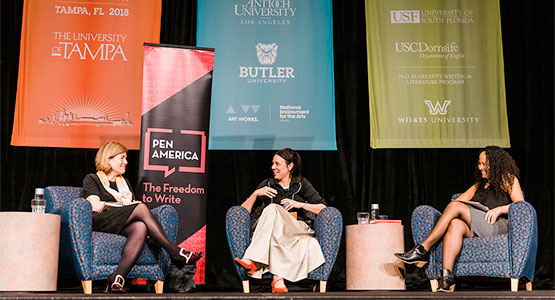 2023 Event Schedule
The 2023 AWP Conference & Bookfair in Seattle, Washington schedule is searchable by day, time, title, description, participants, type of event, and event format. This schedule is subject to change. A version accessible to screen readers is also available.
The schedule includes events taking place in-person at the Seattle Convention Center in Seattle, Washington and prerecorded virtual events that will be available to watch on-demand online. A select number of in-person events will also be livestreamed for online viewing. Under the Advanced Search, use the "Event Format" search option to filter the schedule and view all in-person events, all virtual events, livestreamed events only, or prerecorded virtual events only. Please note that due to staff and resource limitations, not all in-person events can be livestreamed.
The #AWP23 Conference & Bookfair mobile app is now available! If you would like to build your personal schedule on the mobile app, search "AWP23" in the App Store or Google Play to download the #AWP23 app now. More information, including conference maps and exhibitors, will be added to the mobile app in the coming months.
Please note: The schedule you build on awpwriter.org will not transfer to the mobile app as these systems are independent.
Scroll over participants' names in blue to read their biographies.
Friday, March 10, 2023

1:45 p.m. to 3:00 p.m.

Rooms 427-429, Summit Building, Seattle Convention Center, Level 4

F197.

Is an Independent Editor Right for You?

( Will Allison, Jaimee Garbacik, Liz Van Hoose, Alexis Washam)

Writers seeking feedback face a lot of options: Join a writers group? Enroll in a workshop? Attend a conference? Apply to MFA programs? This panel is for writers at any career stage who are curious about another option: working one-on-one with an independent editor. You'll meet four veteran editors with diverse backgrounds in writing, lit mags, and book publishing. They'll discuss the services editors provide, finding the right editor for your work, making the most of the relationship, and more.

Download event outline and supplemental documents.

Will Allison is an independent editor, a teacher, a contributing editor at One Story, and the author of two novels. He served as executive editor of STORY and editor at large of Zoetrope: All-Story. He has taught at Columbia University, Ohio State University, Butler University, and elsewhere.

Twitter Username: WillAllison3

Website: www.willallison.com

Jaimee Garbacik (she/they) is the author of Gender & Sexuality For Beginners and editor of the Ghosts of Seattle Past anthology. A developmental book editor with a literary agency background, Jaimee has edited for New York Times bestselling authors, as well as Caldecott Honor and Emmy Award recipients.

Twitter Username: JaimeeG

Website: https://www.footnoteeditorial.com/

Liz Van Hoose edits fiction and narrative nonfiction. Recent clients include Honorée Fanonne Jeffers (The Love Songs of W.E.B. Du Bois), Alice Randall (Black Bottom Saints), Fiona Davis (The Lions of Fifth Avenue) and The Authors Guild (Fourteen Days: An Unauthorized Gathering).

Twitter Username: lizvanhoose

Alexis Washam spent eighteen years as an editor at Penguin and Random House, most recently as the editorial director of Hogarth. In September, 2021, she joined Verto Literary Group as an executive editor, and edits fiction, narrative nonfiction and memoir on an independent per-project basis.
---