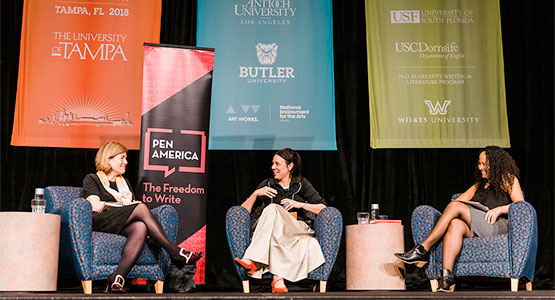 2021 AWP Conference Schedule
AWP is excited to announce that #AWP21 will be fully virtual this March. The AWP Conference & Bookfair has always been a place of connection, reunion, and celebration, and we hope to offer the same experience in a new way this year.
How do events work in this new virtual format?
Most events are prerecorded and will be premiered at the date & time listed in the schedule below. After the premiere, the video will be available on-demand for the duration of the conference, including one month's post-conference access until April 3, 2021.
Many featured events will be held live or incorporate live Q&As and more information about this will be posted soon. We are also happy to host several live discussion rooms over the days of the conference in Zoom.
How will Q&As work if the events are prerecorded?
Because we do not have the capacity to host live Q&As for this many concurrent events, we are encouraging presenters & attendees to interact in the text-based chat box that will be available on the virtual conference platform for each event and will remain available for the duration of the conference.
Can I create a personal schedule?
This year, instead of creating a schedule directly on the AWP website, registered attendees will receive access to a separate virtual conference platform in February 2021. On the platform, you can browse all events, read presenter bios, and create your own personal event schedule.
Accessibility Services
All events will include captioning, and the featured events will include captioning and ASL interpretation. ASL for regular events is available by request. If you need additional accessibility services in order to access an event, please see the Accessiblity Services webpage. The deadline to request accessibility services is February 12, 2021. We will do our best to honor requests that come to us after that date.
Please stay tuned for more events to be added in the coming weeks, including receptions, caucuses, discussion rooms, and more!
AWP is pleased to present the virtual conference schedule below.