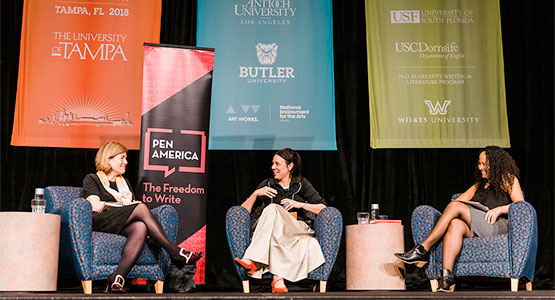 2023 AWP Conference Schedule
The #AWP23 Conference & Bookfair in Seattle, Washington schedule is searchable by day, time, title, description, participants, and type of event. This schedule is subject to change. A version accessible to screen readers is also available.
Please note: The schedule you build on awpwriter.org will not transfer to the mobile app or the virtual conference platform as these systems are independent.
Scroll over participants' names in blue to read their biographies.
Friday, March 10, 2023

10:35 a.m. to 11:50 a.m.

Room 337, Summit Building, Seattle Convention Center, Level 3

F137.

Hand to Stone: Fujitarō Kubota and James W. Washington, Jr. in Poetry and Prose

( Carletta Carrington Wilson, Elizabeth Austen, Kentaro Kojima, Shankar Narayan, Adriana Campoy)

Northwest writers honor master landscaper Fujitarō Kubota and noted sculptor James W. Washington, Jr. by reading from Spirited Stone: Lessons from Kubota Garden and Poem of Stone and Bone: The Iconography of James W. Washington, Jr. in Fourteen Stanzas and Thirty-One Days. Both men infused their work with their spiritual beliefs in relationship to nature. Through poetry and essay, writers respond to Kubota and Washington, whose legacies continue to inspire generations today.

Download event outline and supplemental documents.

Carletta Carrington Wilson is a literary, mixed-media, and installation artist. She explores the "text" of textiles. Her work has appeared in Take a Stand: Art Against Hate, The African American Review, Cimarron Review, Obsidian III, and Cascadian Zen: Bioregional Writings on Cascade Here and Now.

Elizabeth Austen, Washington State Poet Laureate 2014–16, is the author of Every Dress a Decision (Blue Begonia Press) and two chapbooks. She's performed in venues from UNESCO in Paris alongside poets from twelve nations to a remote former mining town in Washington. She was NPR-affiliate KUOW's poetry commentator.

Twitter Username: eaustenpoet

Kentaro Kojima is a Japanese artist born and raised in Guatemala. Kojima came to the USA for college and then moved to New York City after graduation. After about eight years in New York, Kojima moved to Washington state. Kojima is a stone sculptor with a lot of interest in natural dyes and writing.

Shankar Narayan explores identity, power, mythology, and technology in a world where the body is flung across borders yet can still transcend them. He awakens to the wonders of Cascadia every day, but his heart yearns east to his other home, Delhi. Connect with him at shankarnarayan.net.

Adriana Campoy is a publicist at Chin Music Press and an educator, screenwriter, and poet whose work often explores themes of ekphrasis. She co-wrote the screenplay for People Are Becoming Clouds, which premiered at the Toronto International Film Festival and was featured in The New Yorker.