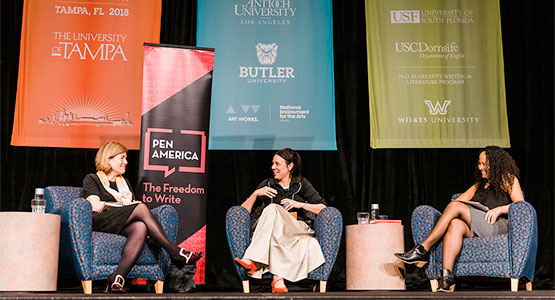 2022 AWP Conference Schedule
The #AWP22 Conference & Bookfair in Philadelphia, Pennsylvania schedule is searchable by day, time, title, description, participants, and type of event. This schedule is subject to change. A version accessible to screen readers is also available.
Please note: The schedule you build on awpwriter.org will not transfer to the mobile app or the virtual conference platform as these systems are independent.
Scroll over participants' names in blue to read their biographies.
Thursday, March 24, 2022

3:20 p.m. to 4:35 p.m.

120C, Pennsylvania Convention Center, 100 Level

T229.

Broadsided Press: Celebrating Fifteen Years of Poetic & Artistic Collaboration

( Elizabeth Bradfield, Jennifer Perrine, Luiza Flynn-Goodlett, Margaret Noodin, John Nieves)

Broadsided Press has been publishing collaborations between writers and visual artists as monthly broadsides since 2005; this year, Provincetown Arts Press is publishing an anthology of this groundbreaking work. Join founder Elizabeth Bradfield and poets from the anthology Jennifer Perrine, Luiza Flynn-Goodlet, Margaret Noodin, and John Nieves in a celebration of poems, art, and the synergy between. Images of the art will be projected as the poets read work from the anthology.

Download event outline and supplemental documents.

Elizabeth Bradfield's most recent book is Toward Antarctica. Her work has been published in the New Yorker, Poetry, and her honors include the Audre Lorde Prize and a Stegner fellowship. Founder of Broadsided Press, she works as a naturalist/guide and teaches creative writing at Brandeis University.

Twitter Username: e.bradfield

Website: www.ebradfield.com

Jennifer Perrine is the author of four books of poetry: Again; No Confession, No Mass; In the Human Zoo; and The Body Is No Machine. She is a recipient of the Publishing Triangle Audre Lorde Award and fellowships from Literary Arts and the Vermont Studio Center.

Luiza Flynn-Goodlett, editor in chief of Foglifter, is the author of Look Alive—winner of the 2019 Cowles Poetry Book Prize from SEMO Press—along with seven chapbooks, most recently The Undead (Sixth Finch Books' 2020 Chapbook Contest) and Shadow Box (2019 Madhouse Press Editor's Prize).

Twitter Username: luizagurley

Website: luizaflynngoodlett.com

Margaret Noodin is a poet and associate professor at the University of Wisconsin‹Milwaukee. She is the author of Bawaajimo, a book on native literature and Weweni, a collection of bilingual poems in Ojibwe and English. Her poems and essays have been anthologized in numerous journals and collections.

Twitter Username: OjibweNet

Website: www.ojibwe.net

John A Nieves is an associate professor of English and director of graduate studies at Salisbury University in Maryland. He holds an MA from South Florida and a PhD from Missouri. He is the author of the poetry collection, Curio. He is one of the editors of The Shore Poetry.