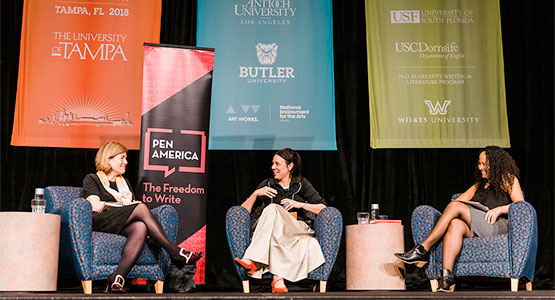 2016 AWP Conference Schedule
Below is a list of AWP events for the #AWP16 Conference & Bookfair in Los Angeles, California. The schedule is searchable by day, time, title, description, participants, type of event, and various category tags self-selected by the event's organizer. A version accessible to screen readers is also available.
Visit the offsite event schedule for a listing of literary events taking place throughout the Los Angeles area during our conference.
Scroll over participants' names in blue to read their biographies.
Wednesday, March 30, 2016

12:00 pm to 7:00 pm

Registration Area, West Hall, LA Convention Center, Exhibit Hall Level One

W100. Conference Registration. Attendees who have registered in advance, or who have yet to purchase a registration, may secure their registration materials in AWP's registration area of the West Hall of the L.A. Convention Center. Please consult the bookfair map in the conference planner for location details. Students must present a valid student ID to check-in or register at our student rate. Seniors must present a valid ID to register at our senior rate. A $50 fee will be charged for all replacement badges.

West Hall, LA Convention Center, Exhibit Hall Level One

W101. Bookfair Setup, Sponsored by Hollins University: Jackson Center for Creative Writing. The West Hall of the Los Angeles Convention Center will be open for bookfair setup. For safety and security reasons only those wearing an exhibitor access badge, or those accompanied by an individual wearing an exhibitor access badge, will be permitted inside the bookfair during setup hours. Bookfair exhibitors are welcome to pick up their registration materials in AWP's registration area also located in the West Hall.

First-Aid Suite, LA Convention Center, Exhibit Hall Level One

W102. Lactation Room. The Lactation Room is located inside the first-aid suite, located on Exhibit Hall Level One of the Los Angeles Convention Center outside of West Hall A and the AWP registration area, across the hall from Petree Hall.

5:00 pm to 6:30 pm

Room 411, LA Convention Center, Meeting Room Level

W103. SPD/CLMP Annual Publisher Meeting. ( Brent Cunningham, Ted Dodson, Jeffrey Lependorf, Laura Moriarty) The staffs of the Community of Literary Magazines and Presses (CLMP) and Small Press Distribution (SPD) discuss issues facing publishers, organizational goals, and upcoming programs. Both new and longstanding members, as well as those contemplating joining either organization, should plan to attend.

Brent Cunningham is the operations director for Small Press Distribution, where he has worked since 1999. Along with SPD's other directors he has helped nearly double sales at the organization over the past decade. He is the author of two books of poetry, Journey to the Sun and Bird & Forest.

Ted Dodson is the director of membership and development at CLMP, a former editor of The Poetry Project Newsletter, and the books editor for Futurepoem.

Twitter Username: tedodson

Website: tedodson.tumblr.com

Jeffrey Lependorf serves as the shared executive director of America's two national service organizations for independent literary publishing: the Council of Literary Magazines and Presses (CLMP) and Small Press Distribution.

Twitter Username: flowchartfdn

Website: http://www.jeffreylependorf.com

Laura Moriarty is the deputy director of Small Press Distribution where she has worked since 1999. For more than a decade, she was director of the American Poetry Archives for the Poetry Center at San Francisco State University. She is the author of fourteen books of poetry and two novels.

Twitter Username: l_moriartypoet